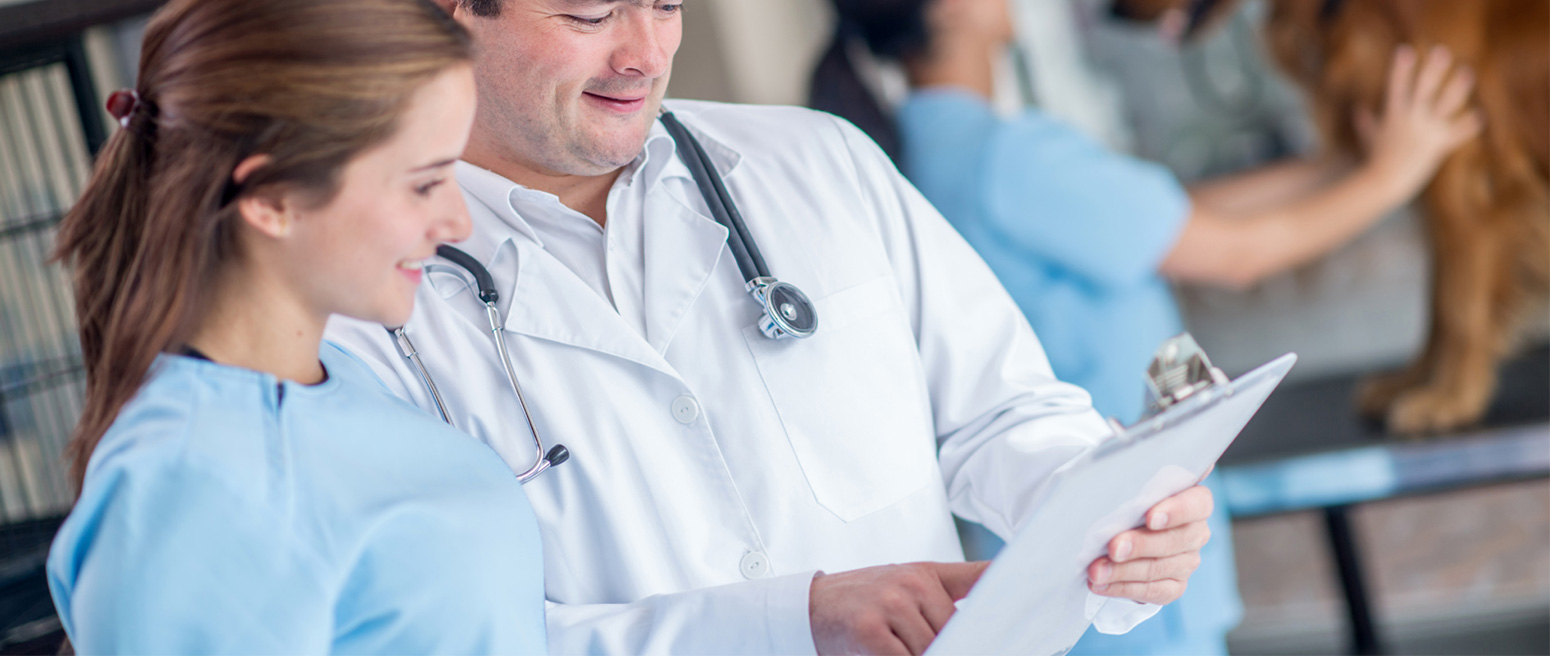 Dr. Joy Delamaide Gasper is a Diplomate of the American College of Veterinary Internal Medicine (Neurology). She has advanced  training in both medical neurology and neurosurgery of dogs and cats. Dr. Delamaide earned her B.A. at Wellesley College in Massachusetts in 2005, and received her Doctorate of Veterinary Medicine at Kansas State University in 2009. She completed a rotating internship at the VCA Sacramento Veterinary Referral Center (2009-2010) and a neurology specialty internship at Veterinary Specialty Hospital in San Diego (2010-2011).
Dr. Delamaide completed her neurology and neurosurgery residency training at the University of Wisconsin-Madison from 2011-2014. She practiced veterinary neurology at the Veterinary Specialty Hospital in San Diego for 5 years before this opportunity to return to Madison.
She provides neurological examination of dogs and cats, and uses this information to assess for neurological conditions. She appreciates the importance of considering the pet's overall health and quality of life, as well as the clients' need to be able to find a management plan that will optimize outcome.
She has interest in medical and surgical treatment of intervertebral disc herniation. She takes an integrative approach using a variety of types of medications as well as complementary therapies. She is skilled in surgical procedures when they are appropriate and best for the outcome of the patient. She also loves long-term management of seizures and immune- mediated inflammatory diseases in dogs and cats.
Dr. Delamaide Gasper and her husband have two young children and a Chocolate Labrador named Zuma and tabby cat named Manzula complete their family. When she has free time, she enjoys hiking, cycling, and yoga.
Dr Jeanie Lau is a Diplomate of the American College of Veterinary Internal Medicine (Neurology). She graduated cum Laude from Dartmouth College in 2008 with a major in neuroscience and received her veterinary degree from the University of Sydney with first class honors in 2012.
Dr. Lau practiced in busy private hospitals in Australia for 2 years before completing a rotating internship and a Neurology/Surgery specialty internship at the Small Animal Specialist Hospital (SASH) in Sydney, Australia. She then furthered her neurology and neurosurgery training at the University of Melbourne in 2016 before pursuing her Neurology/Neurosurgery residency at the North Carolina State University from 2016-2019.
Prior to joining the MVS family, Dr. Lau worked as a veterinary neurologist and neurosurgeon at SASH in Sydney and at VSH in Hong Kong. She is passionate about patient care and is dedicated to working closely with owners and referring veterinarians to achieve the best care and outcome for her patients. She has special interests in neurosurgery (surgical treatment for intervertebral disc disease and brain tumors when appropriate), neuroimaging (MRI), inflammatory brain diseases (especially steroid-responsive meningitis arteritis (SRMA)) and seizure management.
Dr. Lau's husband (also a vet) previously worked in Madison for a number of years and he really enjoyed all the Midwest has to offer. They decided to move over with their two kitties, Axel and Alvin, who are retired blood donors and have now travelled the globe from Australia to Hong Kong to Wisconsin! Aside from spending time with her family and taking endless photos of her cats, she loves cooking, hiking, playing the piano and DIY projects.
Caitlin has been with the MVS team since November, 2022.
Cassie joined the MVS team in April 2023.
Natalie graduated from the MATC veterinary technician program in 2021 but has been working in the veterinary industry since 2014. She started her career in general practice before joining MVS in 2020. Originally working in the ER, she gained knowledge and technical skills before transferring to the neurology team. Neurology has always been an interest of hers and she enjoys learning more about the nervous system and it's interaction with the body.
Natalie currently resides in Cambridge and shares her home with a Siamese named Piper and a Golden Retriever named Doug. In her free time, she loves motorcycle rides and traveling.
Freya attended the University of Wisconsin where she completed her degree in Zoology and Environmental Sciences. She then went on to gain experience as a veterinary assistant in a general practice for 1 1/2 years before joining the MVS team in January 2020.
In her free time, you can find Freya reading, kayaking, or hiking. Her favorite animal is the ferret–in fact, she shares her home in Sun Prairie with 5! Their names are Belly, Goose, Penelope, Timon and Pumba.
Our Team