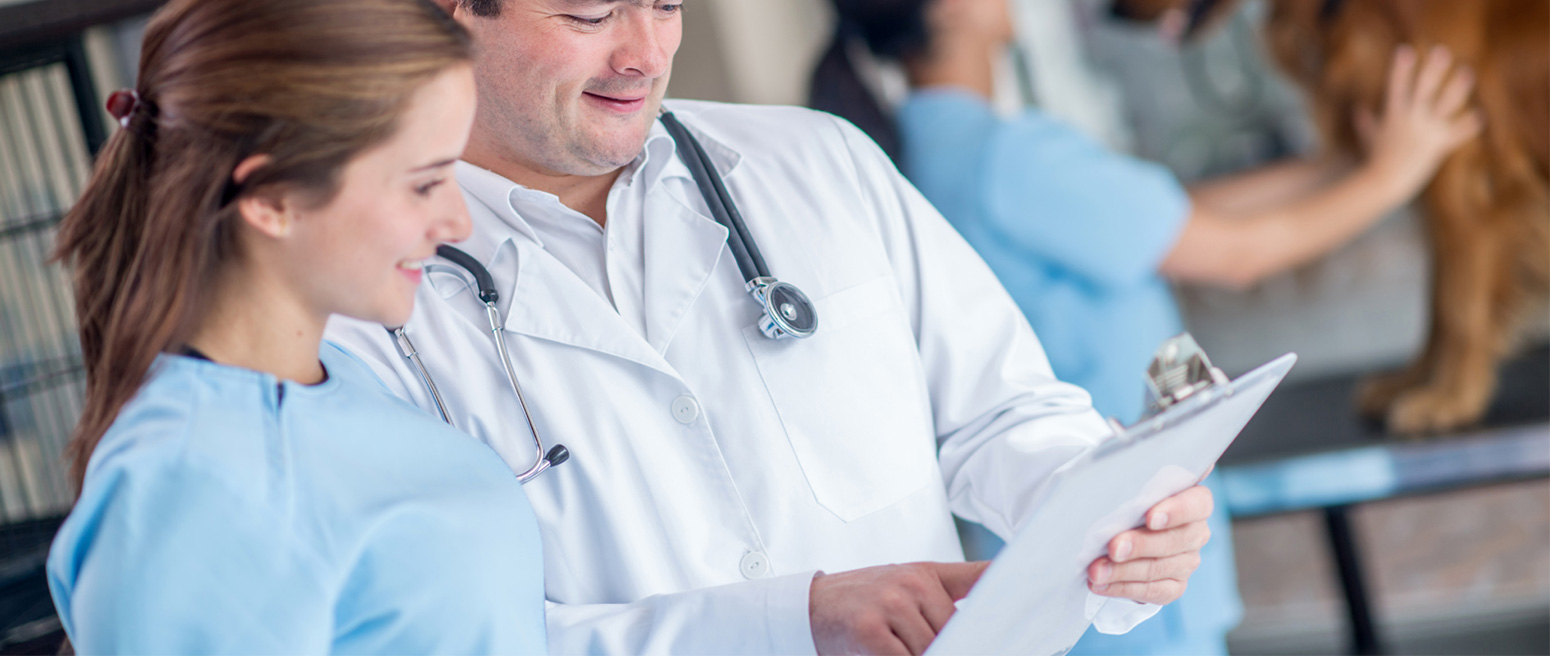 Dr. Carrie Calhoun graduated from the University of Wisconsin-Madison School of Veterinary Medicine in 2014 and knew that she wanted to be an emergency clinician. She completed a rotating small animal internship in emergency, medicine, and surgery in Seattle, Washington before joining our team at MVS.
Dr. Calhoun lives in Fitchburg with her golden retriever/Great Pyrenees mix named Charlie. In her free time, she enjoys running, paddle boarding, hiking and traveling.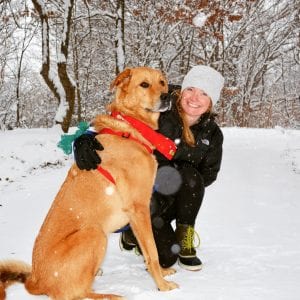 Dr. Daggett graduated from the University of Wisconsin School of Veterinary Medicine in 2020 before going on to complete a rotating internship at WestVet in Boisde, Idaho. She came back to Wisconsin and joined the MVS team in 2021. 
Dr. Daggett resides on a farm in Montello. Her farm includes 6 horses, 10 dairy goats, an assortment of homing pigeon, peacocks and show chickens. In her spare time, she can be found horseback riding, driving her mini horses in carriages, spending time with her pets, woodworking, traveling and baking. 
Dr. Jim Graham is a Wisconsin native; being born in Hudson and growing up in Whitewater. He moved to St. Cloud, Minnesota for high school and spent a year of that in Maceio, Brazil! Dr. Graham attended Carelton College for his undergraduate degree and then the University of Minnesota for veterinary school. He joined the MVS team in 2021.
In his spare time, you can find Dr. Graham spending time with his family and friends and enjoys being outdoors and playing guitar.
Dr. Keith completed her undergraduate degree from the University of Wisconsin before attending the University of Kentucky where she obtained her Masters in Equine Science. She then graduated from Oklahoma State University in 2016 with her Doctorate in Veterinary Medicine.
When asked why she chose emergency medicine, Dr. Keith says, "Having a furry family member become sick or injured enough to warrant a trip to the emergency room can be an extremely stressful experience for any family.  I understand that making decisions under sometimes dire or emergent circumstances can be overwhelming, and I am passionate about providing the communication, support, and compassion necessary to help families through some of the more difficult moments of their pets' lives."
We've been lucky enough to have her on the team since January 2019. In her spare time, Dr. Keith enjoys traveling, yoga, gardening and attending sporting events. (Go Pack!) She lives in Madison with her husband Lucas and their Lab mix Ava. They round out their family with an Off the Track Thoroughbred horse named Charley.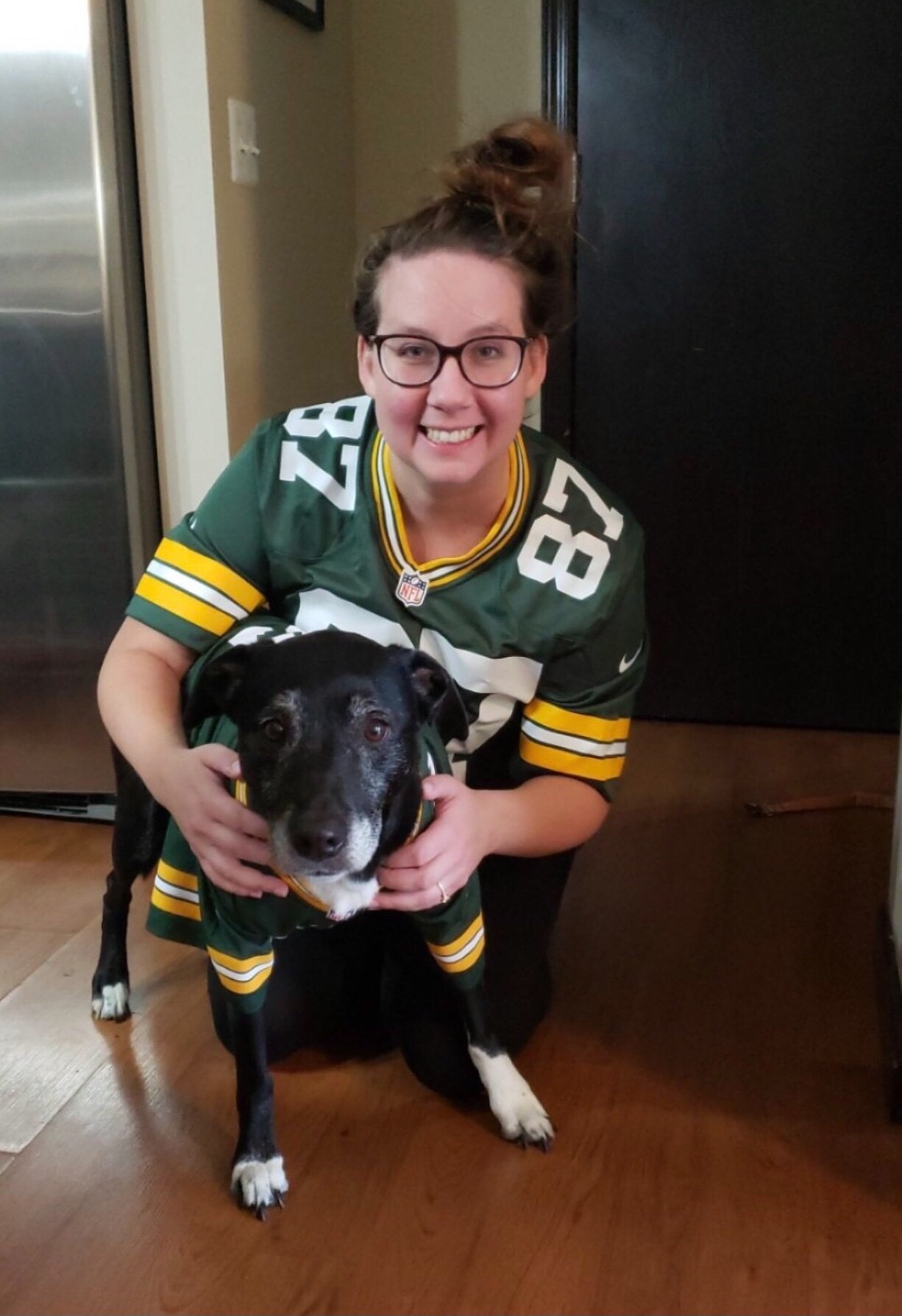 After obtaining his Doctorate of Veterinary Medicine from Iowa State University in 2010, Dr. Matt Keller worked in small animal emergency private practice for 12 years. He has a special interest in trauma, surgery, and wound management. He pursued additional surgical training through a small animal surgical internship in Phoenix from 2019-2020. Dr. Keller joined the MVS team in 2021 and provides both emergency surgery and clinical care services.
When he's not at work, Dr. Keller spends much of his time enjoying the outdoors and can be found hiking with his cat, Stella, or working on his farm in Iowa.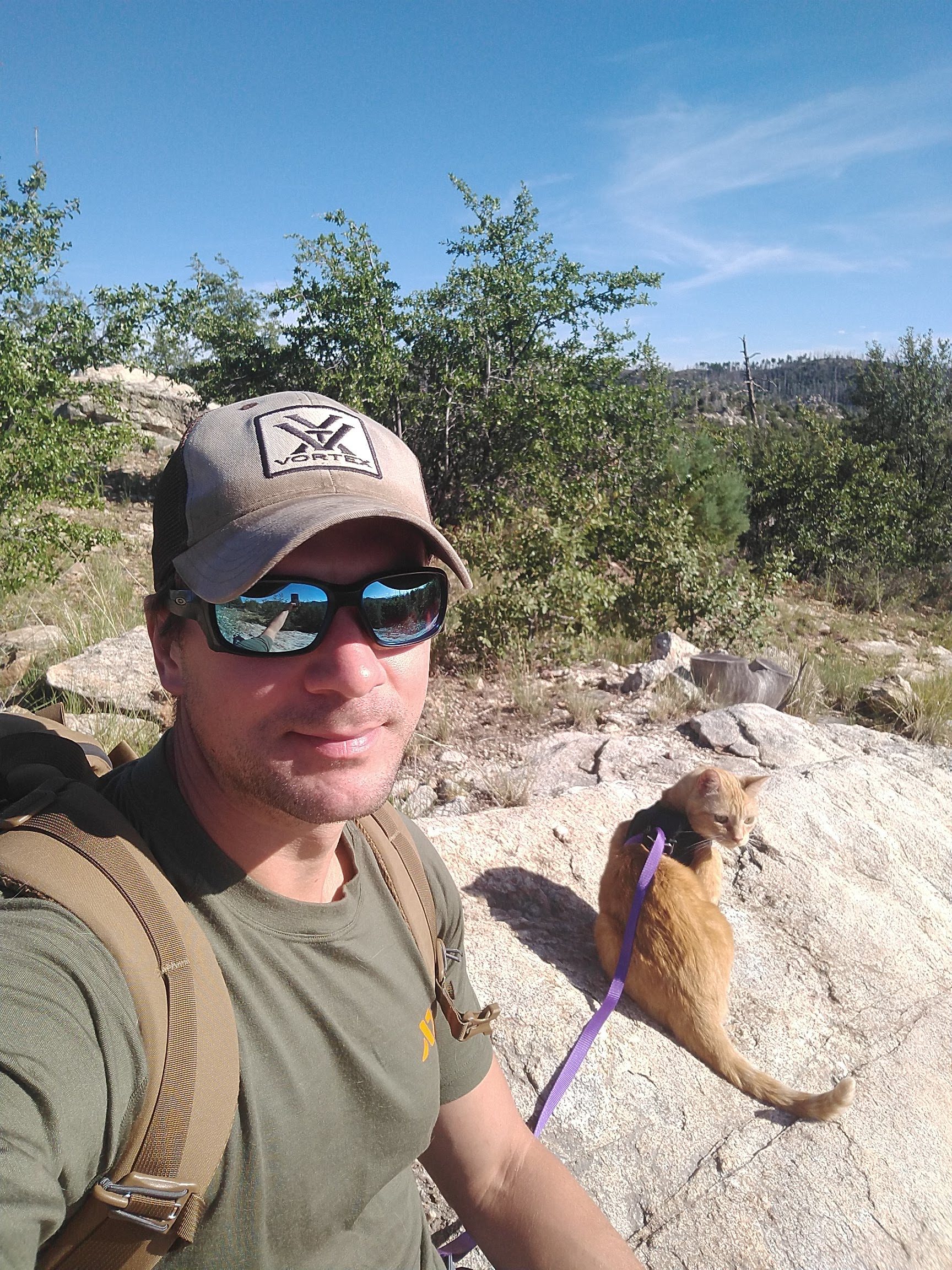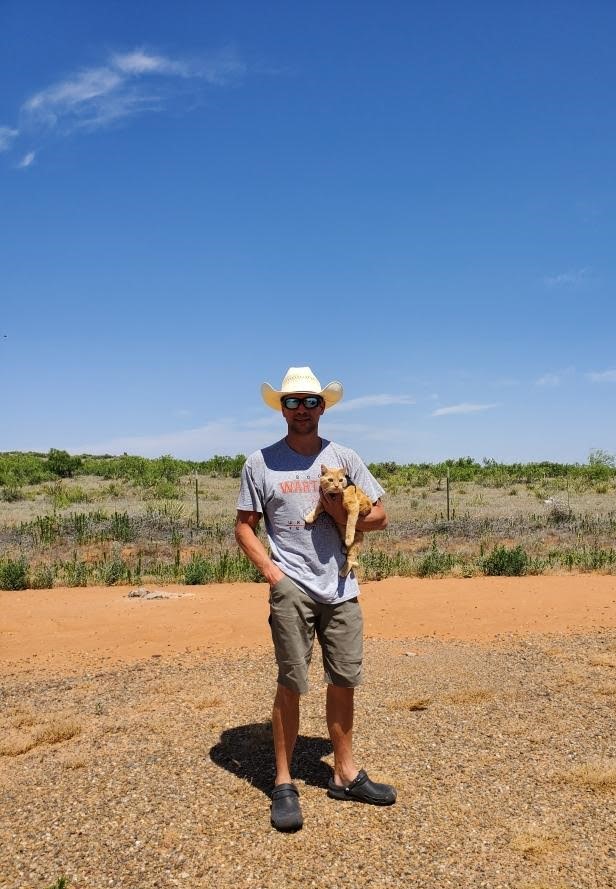 Dr. Katy Klein graduated from the University of Illinois College of Veterinary Medicine in 2021. She completed a rotating small animal internship in emergency, medicine, and surgery in Milwaukee, WI before joining our team at MVS.
Dr. Klein lives with her husband and two dogs, Oliver and Bernie Lou. In her free time, she enjoys traveling, baking, and biking.
Dr. Akshaya Maller came to the United States from India in 2007 to pursue her Bachelors of Science in Biology at Texas Christian University in Fort Worth, Texas. She then went on to veterinary school at Iowa State and soon after completed a small animal rotating internship at North Carolina State University. Before joining us at MVS, Dr. Maller worked at a non-profit general practice clinic in Madison.
In her spare time, Dr. Maller enjoys running, kayaking and paddle boarding. She lives in Madison with her kitty named Fox. We're so glad to have her on the MVS team!
Dr. McCaughey graduated from the University of Wisconsin School of Veterinary Medicine in 2021 and began his emergency internship with MVS soon after. He enjoys emergency and critical care because it gives him an opportunity to make a positive impact on many different animals and their families every day.
Dr. McCaughey lives on Lake Monona in Downtown Madison and enjoys playing live music, playing hockey, skiing and many other outdoor activities. While he doesn't currently have any pets of his own, Dr. McCaughey is known to steal a friend's pet for a photo from time to time.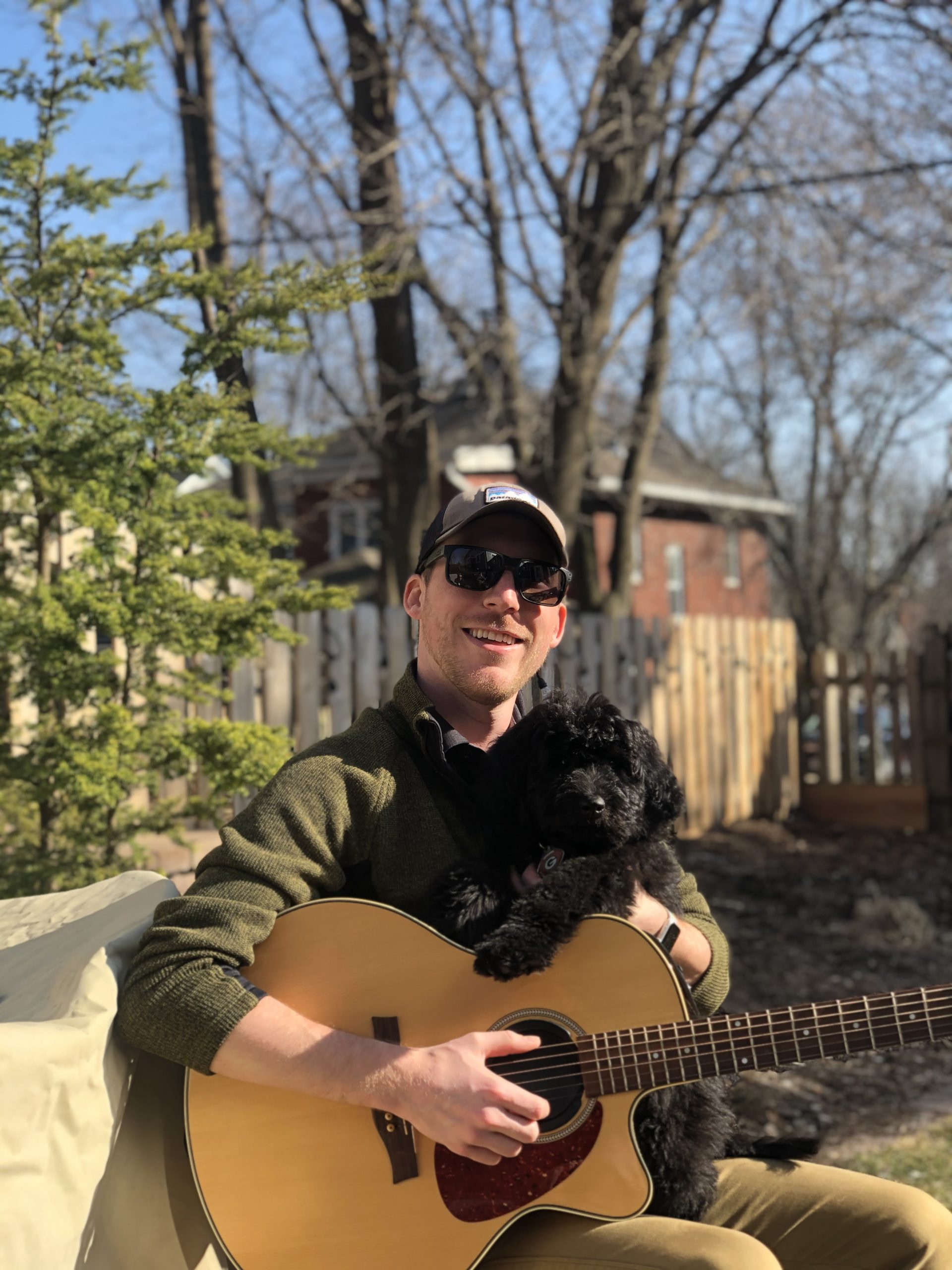 Dr. Tiffany Patton attended Washington State University for both her Bachelor's degree in Neuroscience with a minor in music and Doctorate in Veterinary Medicine. She then completed a rotating internship at WestVet Specialty and Emergency center in Boise, ID before working in Washington, Iowa and Wisconsin as an emergency veterinarian. She enjoys working in emergency medicine because she "feels privileged to be able to help pets when they need her most." Dr. Patton is particularly interested in toxicology, clinical pathology, transfusion medicine, would care management and ultrasound.
In her free time, Dr. Patton enjoys mountain biking, cross country skiing, alpine skiing, kayaking, paddle boarding, swimming and traveling.  She shares her home with her 10 year old border collie mix, Moxie.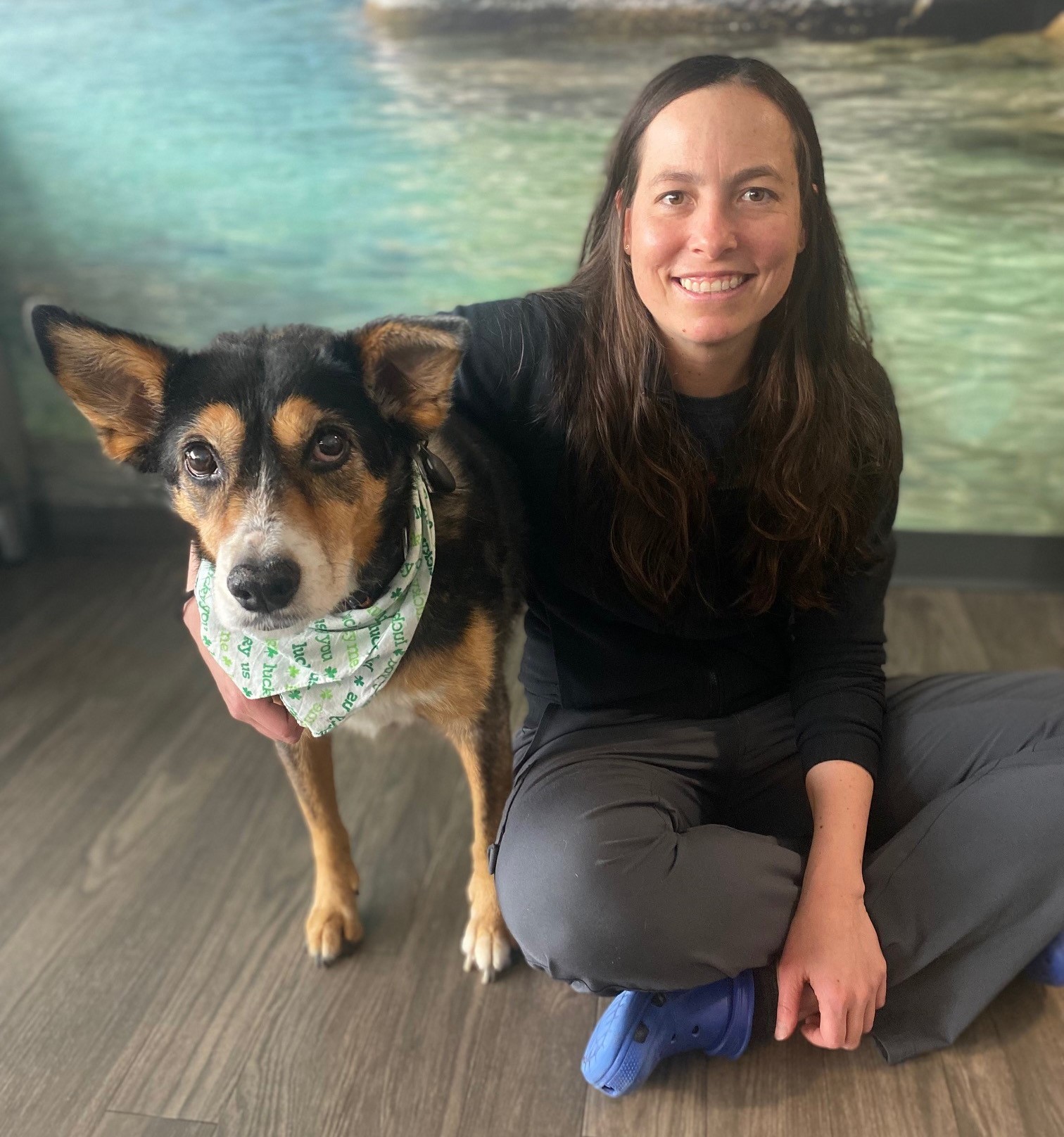 Dr. Mitchell Thomas grew up in New Berlin, Wisconsin and always had a passion for pets and wildlife. He graduated from the University of Wisconsin School of Veterinary Medicine in 2019. During veterinary school, he spent several summers volunteering with primates and manatees at a wildlife rehabilitation center in Belize. After completing a small animal rotating internship at Friendship Hospital for Animals in Washington, D.C., he then spent a year as an emergency clinician in Milwaukee.
Dr. Thomas and his husband live in Verona with their cockapoo, River. In his free time, Dr. Thomas enjoys spending time outside with his dog, working out, camping, and birdwatching.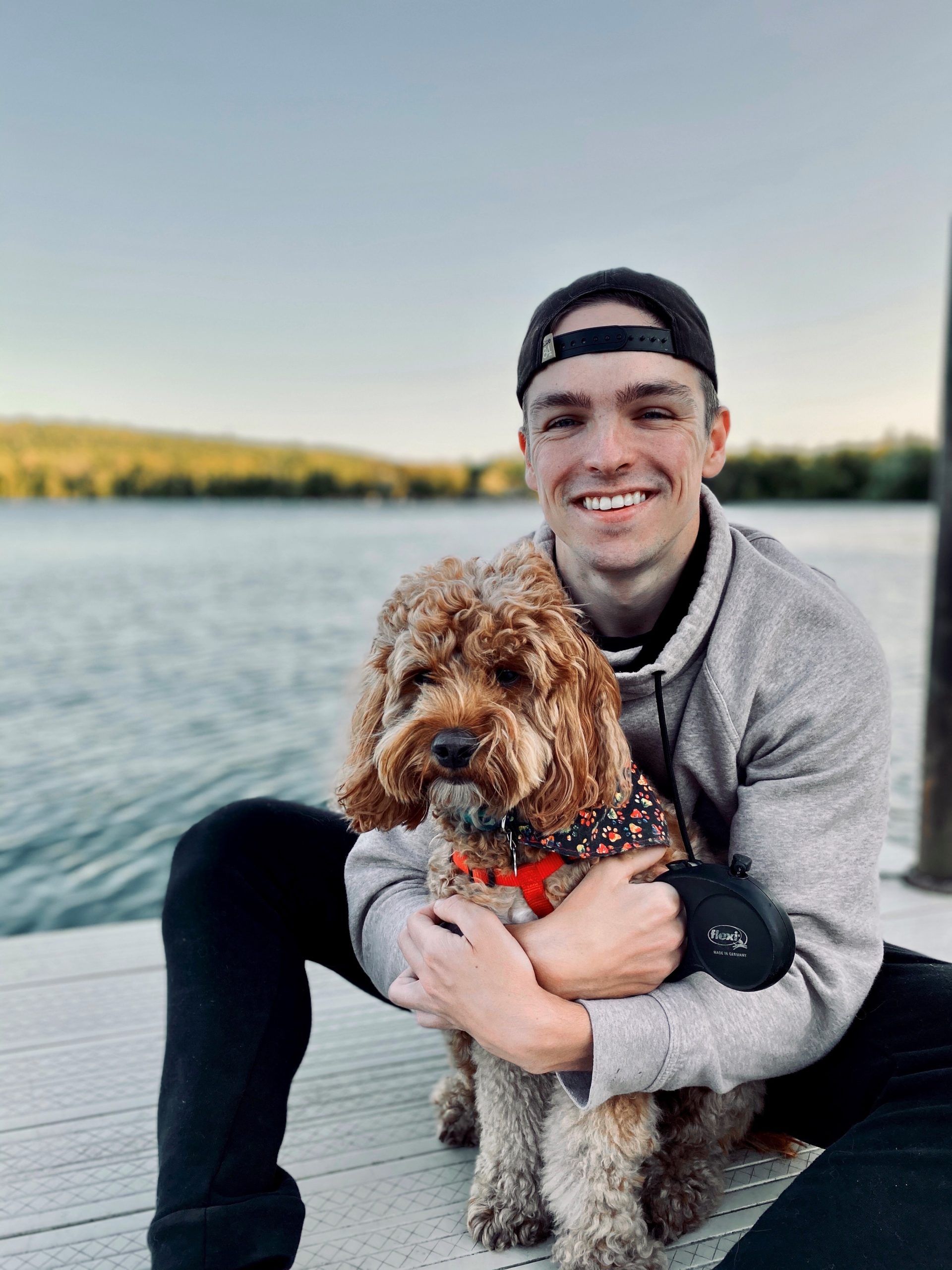 Dr. Kate Alucard graduated from Iowa State University College of Veterinary Medicine in 2022, and earned her Master of Public Health while in veterinary school from the University of Iowa in 2021. Her long term goals include specializing in anatomic pathology, and returning to academia to participated in research, education, and diagnostic work. Dr. Alucard is also involved in several diversity, equity and inclusion efforts within the veterinary industry to help improve the profession as a whole.
In her free time, she is an avid video gamer across multiple platforms (and several of her pets are named from them).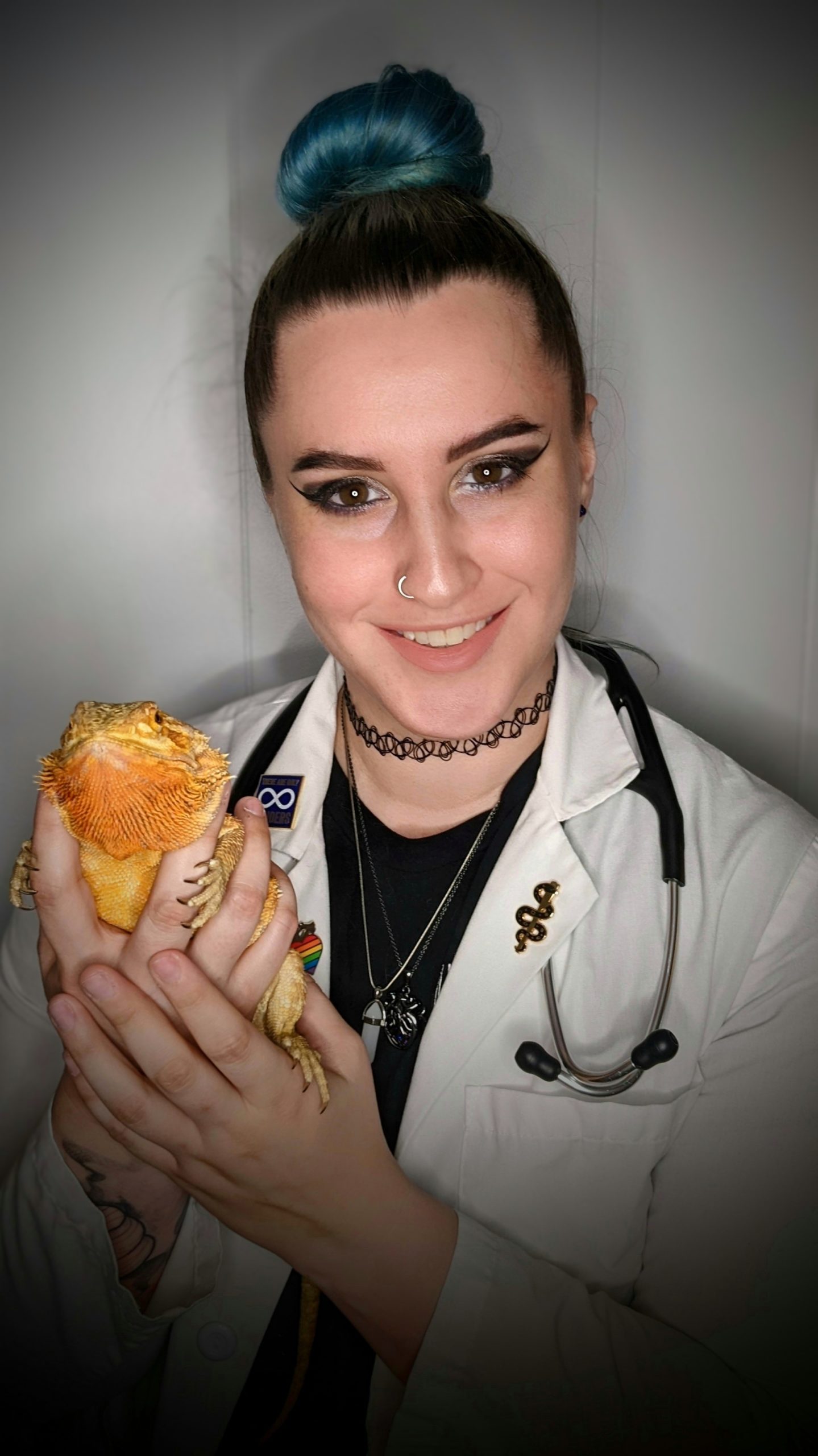 Dr. Nathan Strauss graduated from St. George's University School of Veterinary Medicine in 2022 and completed his clinical year at the University of Florida. Dr. Strauss enjoys the challenge of living minimally while maximizing life. He lives in Middleton and spends his free time playing ultimate frisbee, paddle boarding and traveling. He has an affinity for Huskies, but for now is pet free while he focuses his attention and affection on his patients.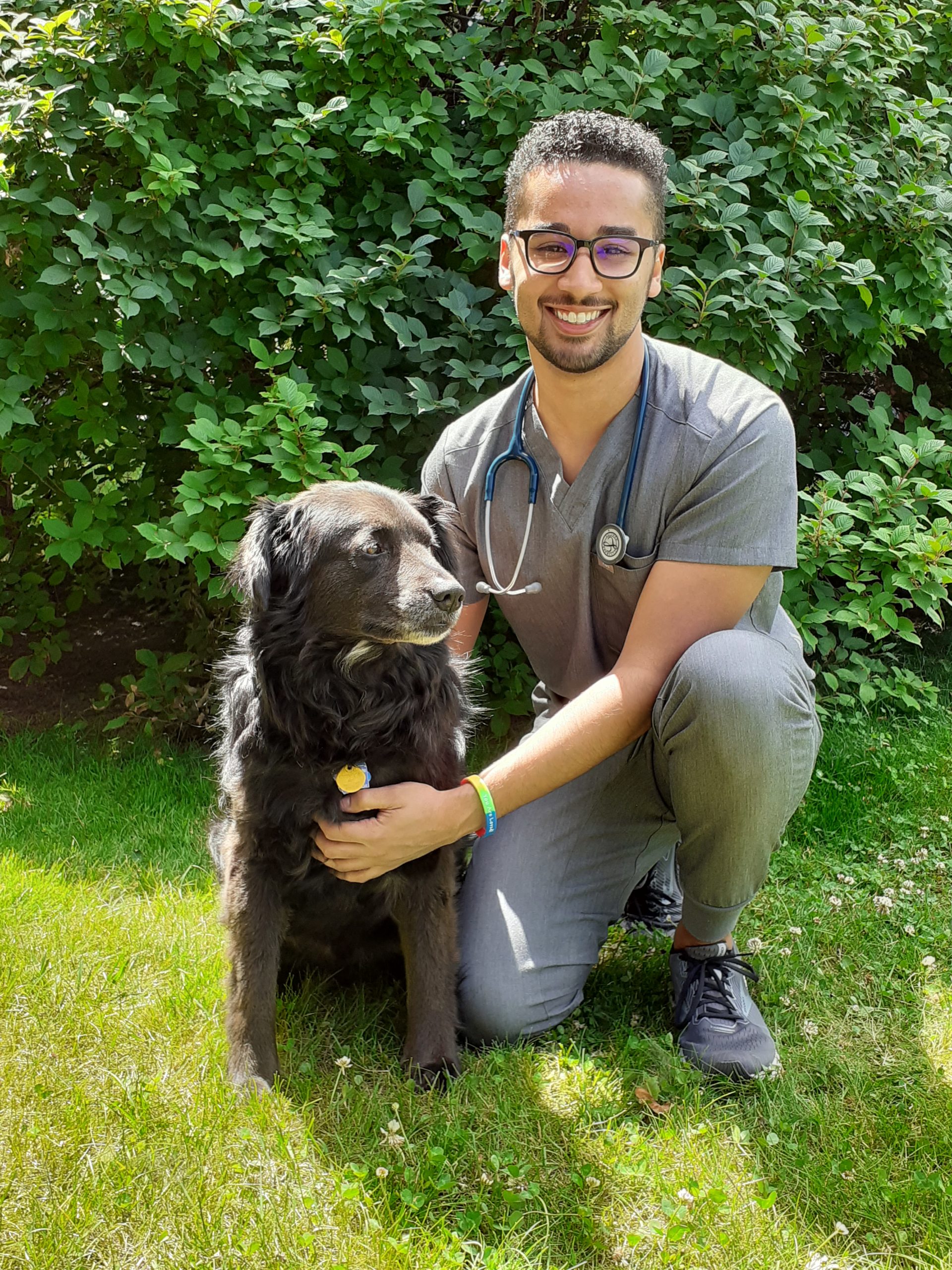 Advanced Training
-Human-Animal Bond Certified
-RECOVER CPR Certified
-Fear Free Certified
Amanda graduated from the Globe University veterinary technician program and worked as a triage nurse at the University of Wisconsin Madison Veterinary School before joining our team at MVS in July 2017. She is very passionate about emergency medicine.
Amanda lives with her husband and their two children in Monona and enjoys spending time with her family and crocheting. They share their home with a Shiba Inu mix named Pearl and three kitties named Gunnar, Shooter and Penelope.
Jami obtained her bachelors degree in biology with a minor in animal science from UW Platteville in 2011 before pursuing her veterinary technician certification from Madison College in 2013. Growing up, Jami was the kind of kid who was always bringing stray animals home and knew that she wanted a career that involved caring for them every day. Jamie worked in general practice for 8 years before joining the MVS ER team in 2020.
Jami shares her home in with her husband and two very active little boys. Their family is completed with four dogs–a Pitbull named Daisy, Shepherd named Reggie and two Wired Haired Terriers named Hank and Harley. Their house doesn't have many quiet days…and that's just the way they like it!
Sierra completed her degree in veterinary technology at the Bel-Rea Institute in Denver before beginning her career, starting in general practice. After a year and a half, she made the jump to emergency medicine. Veterinary medicine was always in her plans, and she chose to be a technician because of her love of the nursing side of care. She knew ER was her passion following an internship in an ICU/ER at a specialty emergency clinic. Sierra thrives in the fast-paced ER environment and loves making a difference in the lives of our patients and their owners–from seeing the sick that get better and get to go home to helping families who are saying goodbye.
Sierra lives in Dodgeville and shares her home with her English Bulldog Harley, Husky mix Koda, four cats named Zara, Jinx, Wanda and Patches and a few chickens.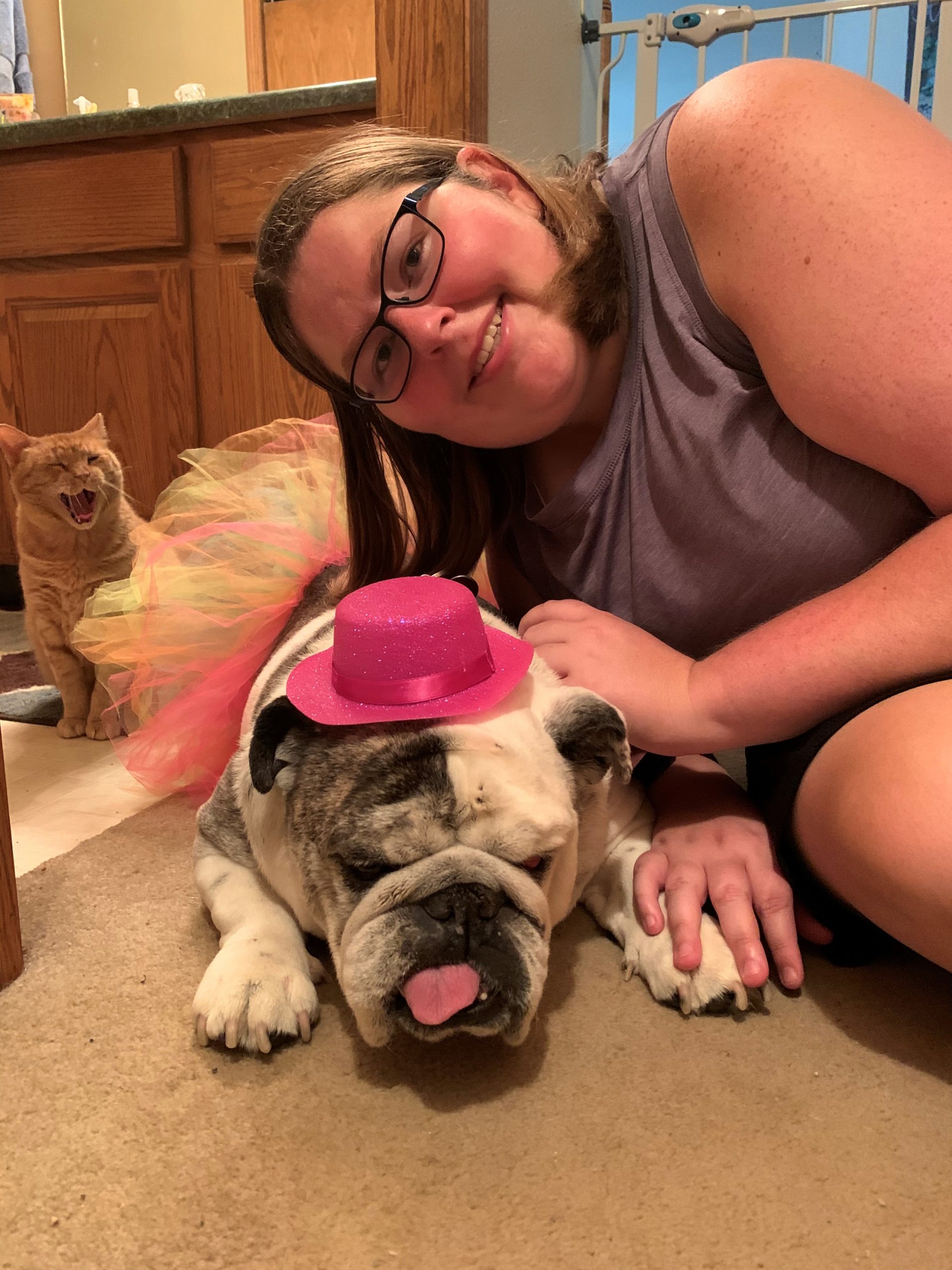 Jordan graduated from the MATC veterinary technician in May 2018 and joined the MVS team shortly after. He has experience with small animals from internships at other veterinary clinics in the area. He also enjoys working with large animals and has volunteered as a stable keeper at the Three Gaits therapeutic riding center.
Jordan lives in Stoughton with a whole collection of pets! This includes a mini Shar-Pei name Suka, a long-haired kitty named Gizmo, two mixed-breed dogs named Gracie and Dobbie, a chinchilla and a rabbit! In his spare time, Jordan enjoys snowboarding, mountain biking and being outdoors with his dogs.
Maritza graduated in 2009 with an Associates in Applied Science from Rockford Career College and became a CVT the same year. She continued her education, graduating in 2016 with a Bachelors in Applied Science in Veterinary Technology from St. Petersburg College in Florida.  Maritza has always had a passion for teaching and spent time teaching at Rockford Career College which also working at a local emergency clinic. Most recently, she passed the VTS exam in 2021 and became a Veterinary Technician Specialist in Emergency and Critical Care and is a member of the Academy of Veterinary Emergency a Critical Care Technicians and Nurses (AVECCTN) . 
Maritza joined the MVS team in August 2022. She lives in Loves Park, IL and shares her home with her family and their Collie mix named Nala and two cats named Meeka and Lenny. In her free time, you can find Maritza hiking and hanging outside with her daughters and husband.
Baylee obtained her degree in Veterinary Technology from Madison College in 2019 and is working on her Bachelors in the same field from Mizzou. Prior to joining the MVS team in February 2022 as our laboratory technician, she worked as an emergency nurse at a different emergency veterinary clinic.
Baylee lives in Waunakee and shares her home with a DSH named Abigail, a Cockapoo named Mollie Jo, a Chihuahua mix named Joey, a Norwegian Forest Cat named and Eli and a goldfish named Shamu.
Advanced Training
-Dermatology
-Oncology
–Fear Free Certified
-Pet Loss Grief Counselor
Bethany is a graduate of the Madison College Veterinary Technology Program and she spent 18 years in general practice before joining the Madison Veterinary Specialists and Emergency Care team in April 2018. She also founded and operated Darling Pet Rescue for 11 years and volunteered for Madison Cat Project for 13 years. Bethany is Fear Free Certified (Elite level) in animal handling and her special interests include dermatology, oncology and behavior. Most recently, Bethany completed her certification as a Pet Loss Grief Recovery Specialist with the American Institute of Health Care Professionals in December of 2020.
When she isn't at work, you can find Bethany hiking, gardening, mushroom hunting or working on home improvement projects. She shares a home in Stoughton with her husband and their three dogs: Hank, Mr. Snuffleupagus and Lillian, as well as four tortoises, three guinea pigs, a toad and her newts. Oh, and don't forget her obsession with pet snails!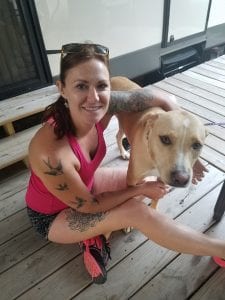 Brooke attends Madison College and is currently enrolled in the Veterinary Technician Program with plans of graduating in the spring of 2021. Before joining the MVS team in January 2020, Brooke has experience at a general practice veterinary clinic.
She lives in Belleville and shares her home with a Teacup Maltese named Autumn. When Brooke isn't working or at school, she spends her free time painting and doing photography.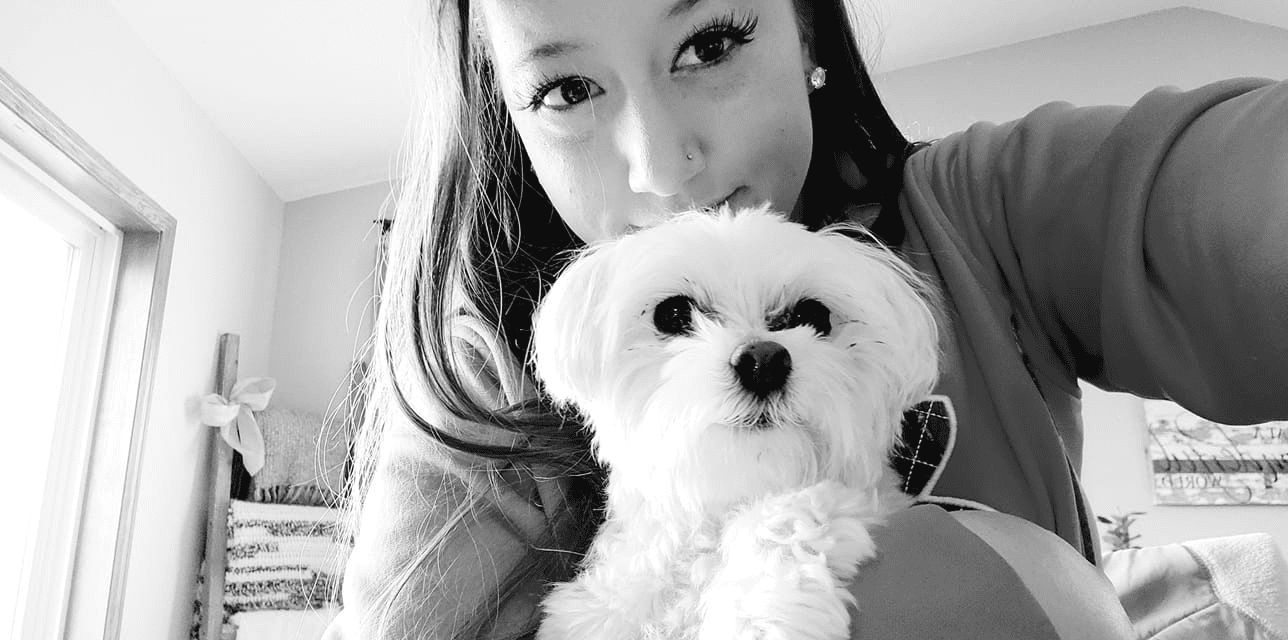 Emily grew up in Beaver Dam, WI. After graduating from Watertown in 1996, she relocated to Northern California in 1998. Emily took night classes in Santa Rosa, and trained on the job in emergency and specialty clinics. She then returned to Wisconsin to be closer to loved ones after becoming a RVT in 2008. In 2012, Emily became a CVT while working at Oregon Vet Clinic. Emily joined the internal medicine team at MVS in January of 2017, and now works with emergency and inpatient care. She loves that every day in the ER is an opportunity to learn or teach something new.
Emily lives with her boyfriend on the near east side of Madison, where they've been going to neighborhood restaurants and festivals for the past 10 years. When not so busy at work, she loves to be lazy at home with her 2 cats, 2 bearded dragons, a 20-year-old box turtle, and several fish. Emily is passionate for variety in music and art, science, good eats, and great memories.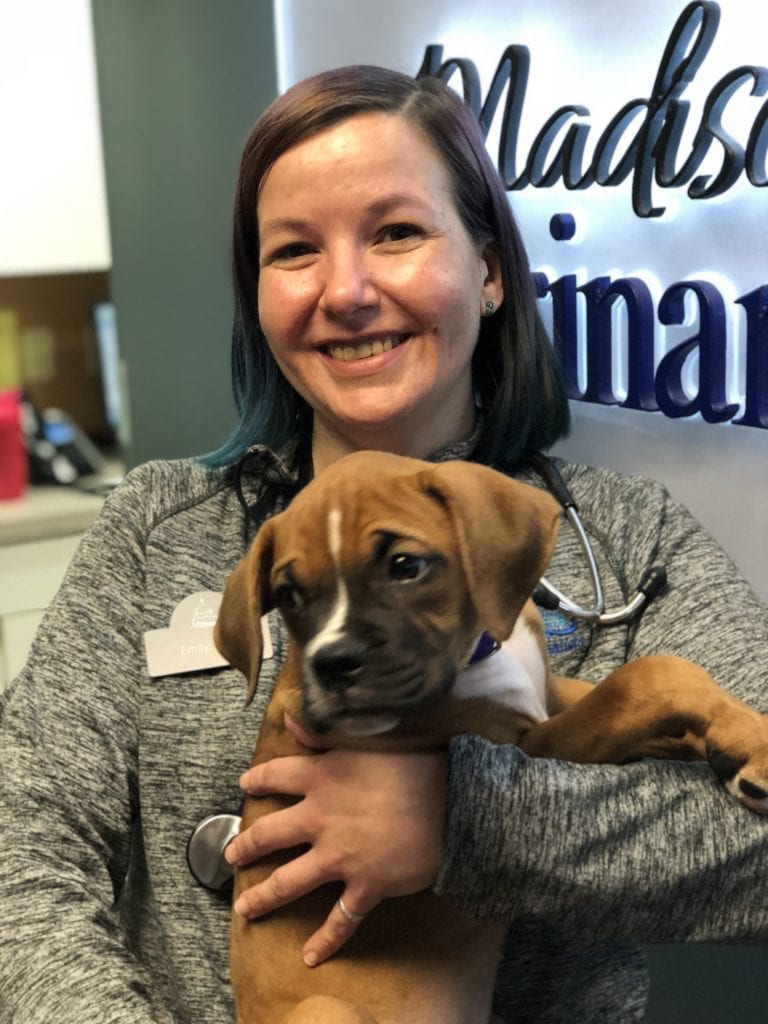 Advanced Training
-Internal Medicine
Jenny graduated from UW-Madison in 2014 with a degree in zoology and environmental studies before attending MATC for the veterinary technician program. She graduated in Spring 2017. Jenny has been with MVS since early 2015, and is now a vital part of the neurology team. She also has experience volunteering at Dane County Humane Society with both canines and as a wildlife rehabilitatior.
Jenny currently lives in Madison with her French Bulldog, Eloise. She plans on applying for veterinary school in the near future!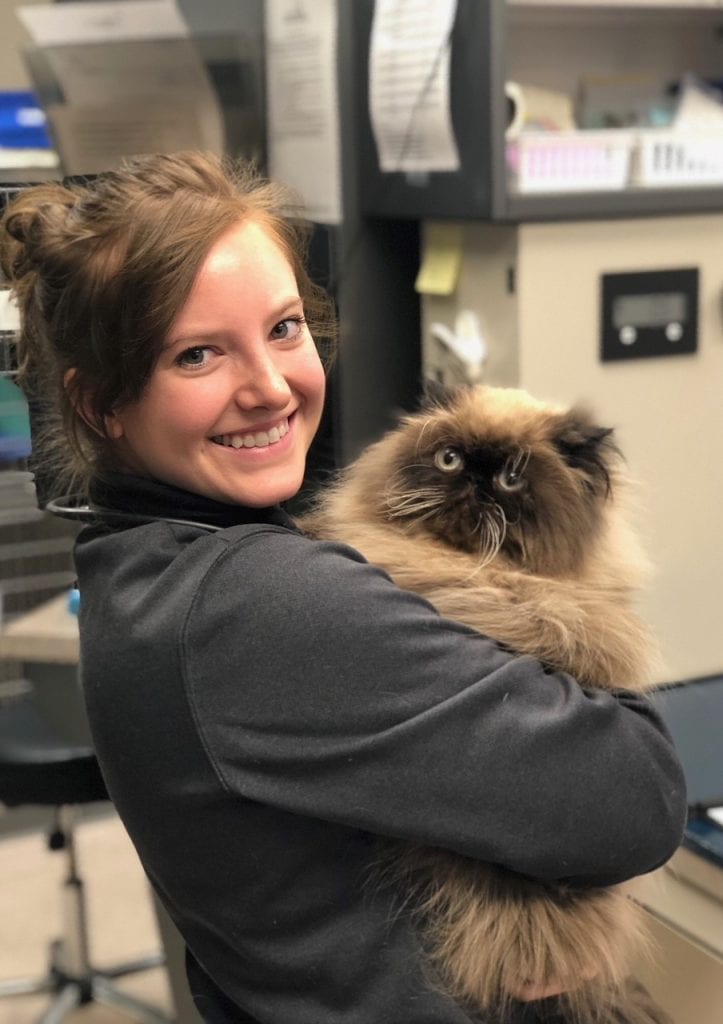 Kal grew up in Wheatridge, CO. After serving 4 years in the Marine Corps he pursued his Associates in Animal Science at Stanbridge University, Irvine CA and graduated in 2020. Kal became licensed as an RVT in California that same year. In 2021 he moved to Madison, WI and started at MVS in June. He became licensed as a CVT while working at MVS.
Kal lives in Madison with his dog Chip.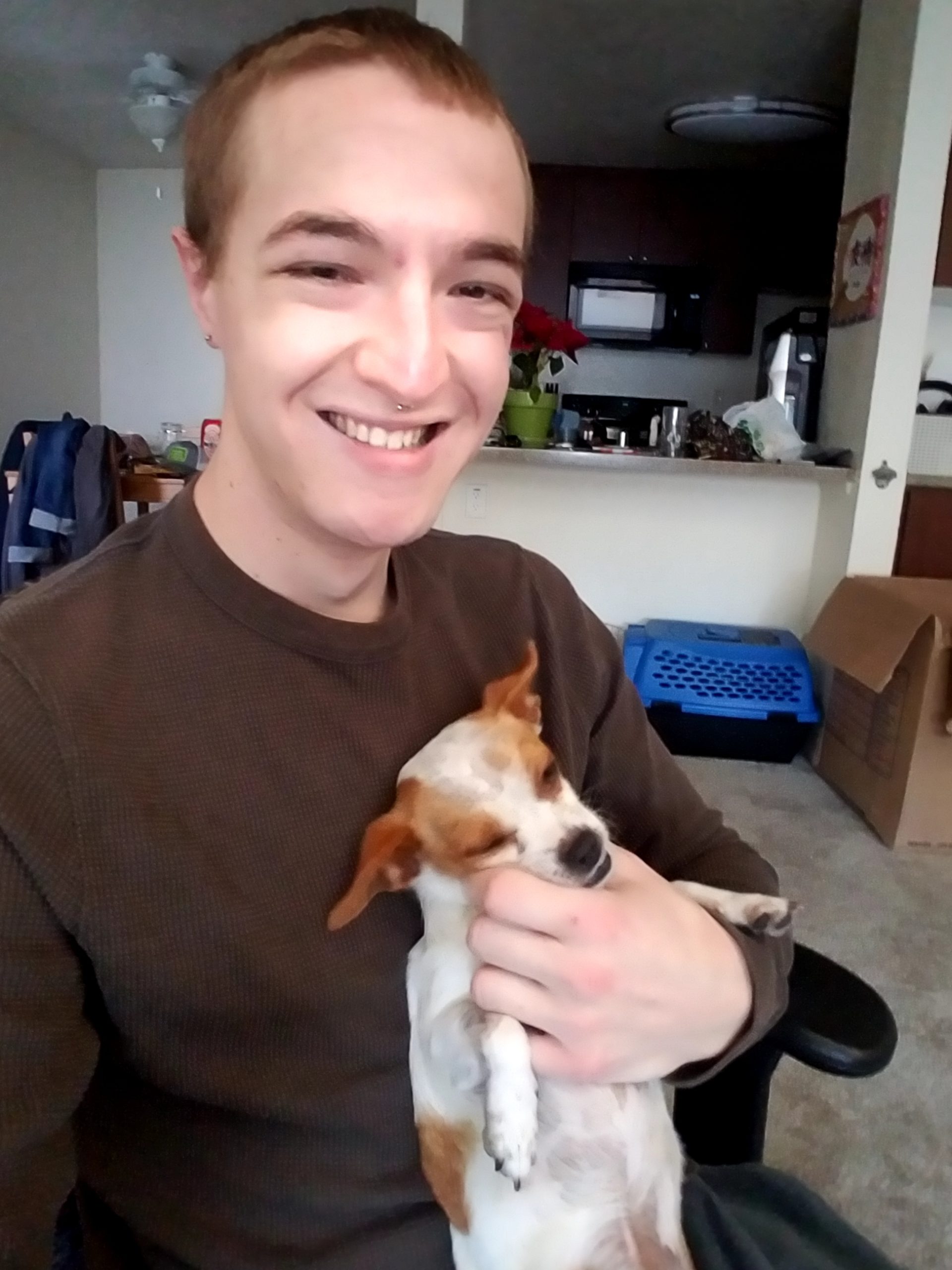 Nikole attended M State in Fergus Falls, Minnesota and graduated with an applied associates degree in equine sciences in 2016. Then, she attended Broadview University in Madison and graduated in 2018 with an applied associates degree in veterinary technology. Nikole joined the MVS emergency team in November 2018.
In her free time, Nikole loves to hang out with her dog, fish, camp and watch the New Orleans Saints. She shares her home in Madison with her American Pit Bull Terrier named Hades.
Sam graduated from Globe University in 2014 and became a certified veterinary technician shortly after. She had worked for 10 years prior in general practice before joining the MVS emergency team in spring 2014.
Sam lives in Janesville with her family that includes a shih-tzu named Walker, a terrier mix named Willow, a yellow lab named Winston, and a kitty named Sniper. She spends most of her time with her husband Jason and their adorable children Jackson, born in 2017 and Peyton born in 2020!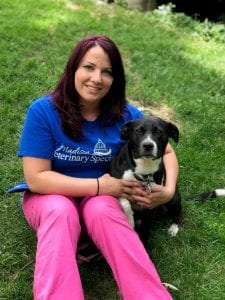 Gwen graduated from UW-Platteville with a bachelors in animal science in May of 2021 and is currently enrolled in the veterinary technician program at Madison College. Gwen has always been passionate about animals and has experience with reptiles, rodents, livestock and companion animals. She enjoys being able to better the lives of animals and help both them and their 'parents' feel better. Gwen joined the MVS team in February 2022.
In her free time, Gwen enjoys walking her dogs, hanging out with friends & family, painting and anything outside. She shares her home with an American Staffordshire Terrier named Hugo and an American Bulldog mix named Piper.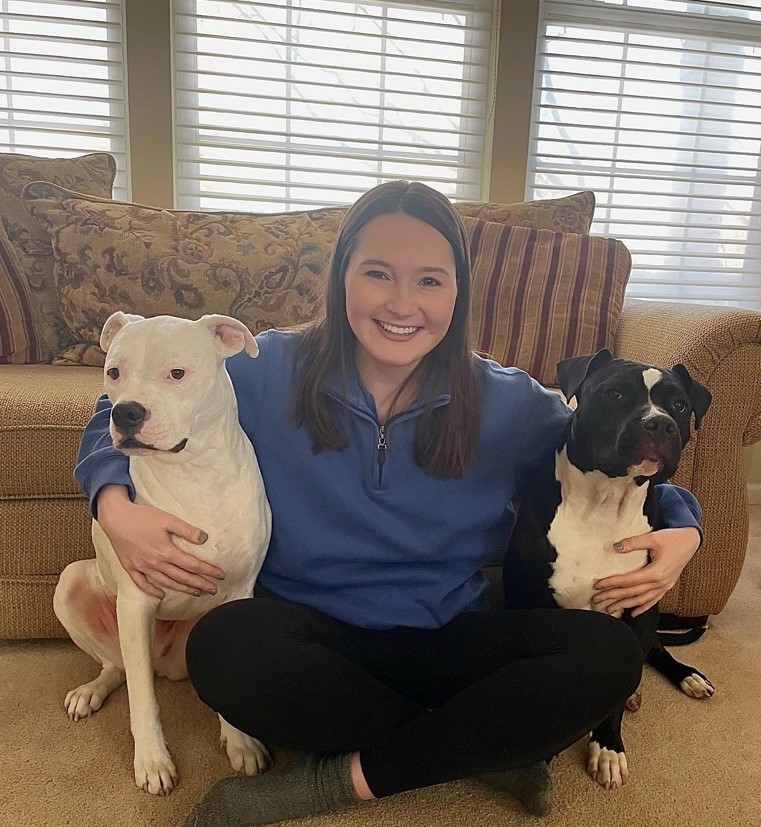 Kaylee attended the University of Wisconsin from 2017-2020, graduating with a BS in animal science. She has experience working in a lab setting, as a kennel crew member at the UW Vet School and has volunteered with various organizations such as the Oshkosh and Dane County Humane Societies, Heartland Farm Sanctuary and Madison Cat Project. She joined the MVS Client Care Team in June 2019.
Kaylee splits her time between Madison and West Allis and shares her home with a Miniature Goldendoodle named Buddy. In her free time she enjoys working out, spending time with family and friends, reading, Wisconsin sports and staying active. She herself was a collegiate athlete as a member of the Wisconsin Women's Rowing team for her whole undergraduate career. She and her team finished in the top 12 at the NCAA Championships!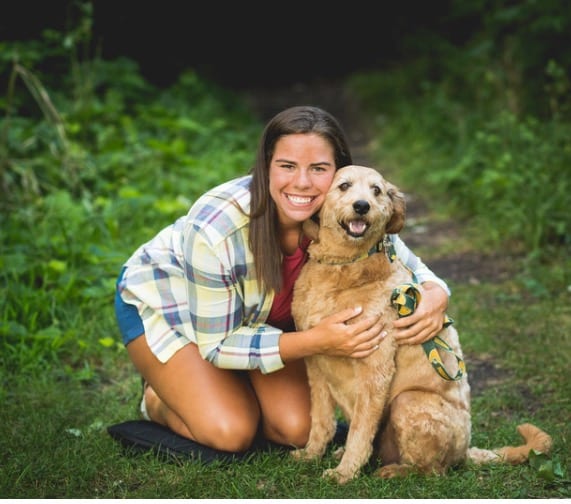 Our Team