MVS maintains a fully staffed emergency, trauma and critical care facility that accepts both walk-in and referral emergencies. We specialize in emergency medical and surgical care of small animals, especially patients requiring more intensive and long-term critical care management.
We are proud to be a certified through the Veterinary Emergency and Critical Care Society (VECCS) as a Level II Certified Facility. This means we meet set guidelines published by VECCS that include but are not limited to:
Having 24-hour acute care with a medical staff that has the necessary training to provide emergent and critical patient care
Having blood products and emergency medications available for immediate use
Being capable of providing nutritional support through a feeding tube
To learn more about our VECCS Certification, you can click on the logo below.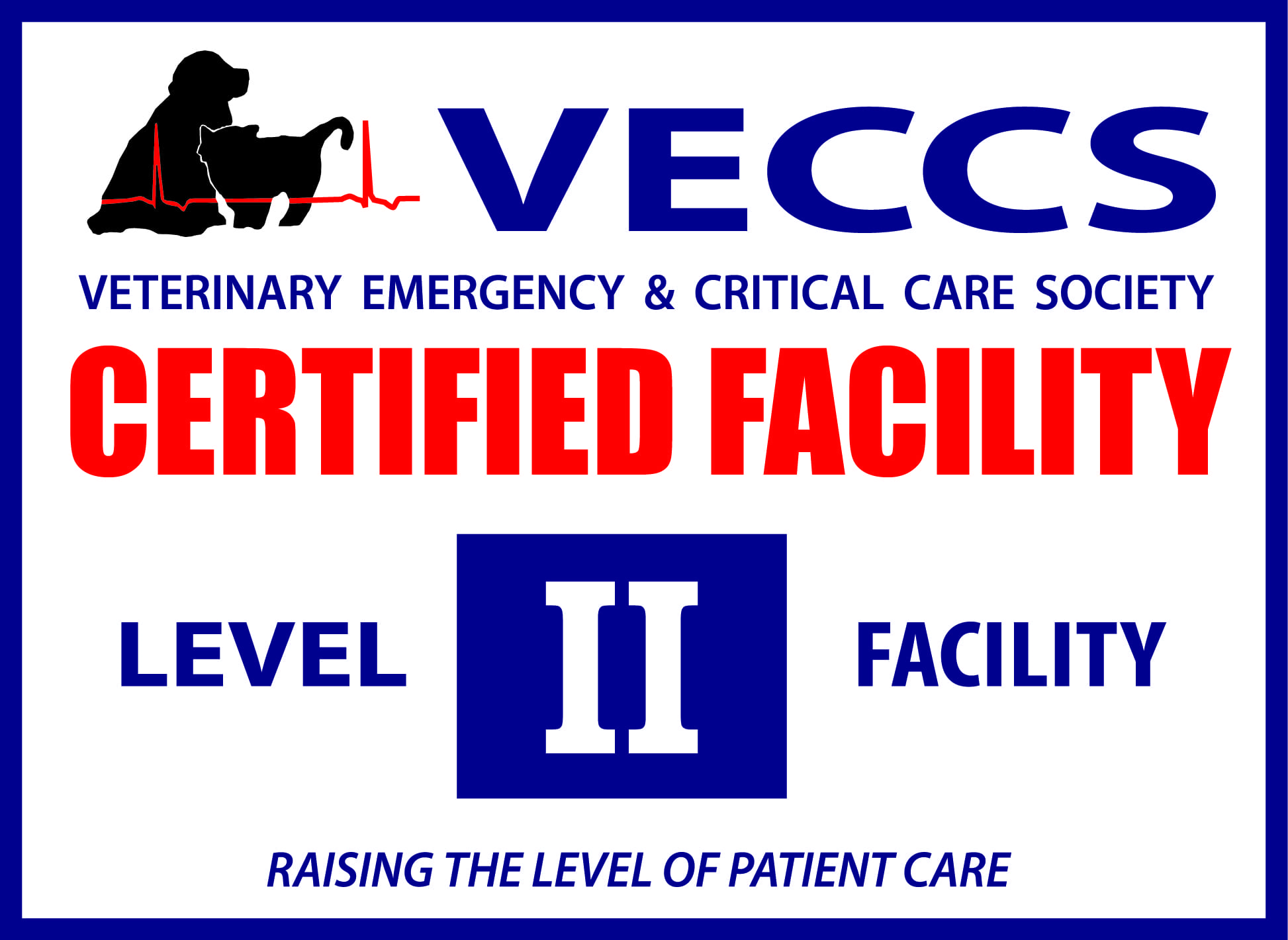 Services & Procedures
Canine and feline blood bank available
Complete laboratory diagnostics which allow immediate blood test results.
Immediate emergency medical imaging.
Emergency surgical procedures including wound repair, GDV, C-section, foreign body removal, and abdominal exploratory.
Endoscopic retrieval of gastric foreign bodies
Complete in-hospital pharmacy with specialized inventory.
Advanced patient monitoring techniques for emergency/critical care and surgery.
Telephone consults with your veterinarian 24/7/365.
The emergency service works closely with MVS' other veterinary specialists in: Surgery, Internal Medicine, Ophthalmology, Dermatology, Neurology and Oncology.
Sorry, at the time we do not see exotic species (cats and dogs only).
When should I seek emergency care?
While not every emergency is on this list, here are many symptoms we consider to require emergency care:
Acute blindness
Allergic reactions
Bleeding from the eyes, nose or mouth
Blood in urine or straining or unable to urinate
Difficulty breathing
Disorientation or collapse
Distended/swollen abdomen
Ingestion of (or suspicion of swallowing) poisons, antifreeze, medications or household cleaners
Massive bleeding from a wound
Non bearing weight on an individual limb
Physical trauma or animal attack
Seizures
Signs of extreme pain such as whining or shaking
Squinting or painful eyes
Unconsciousness
Vehicular trauma
Vomiting and/or diarrhea
Weak or unable to use hind limbs
If you are concerned about your pet at any time, call us at 608-274-7772 and a nurse can discuss your pet's symptoms.