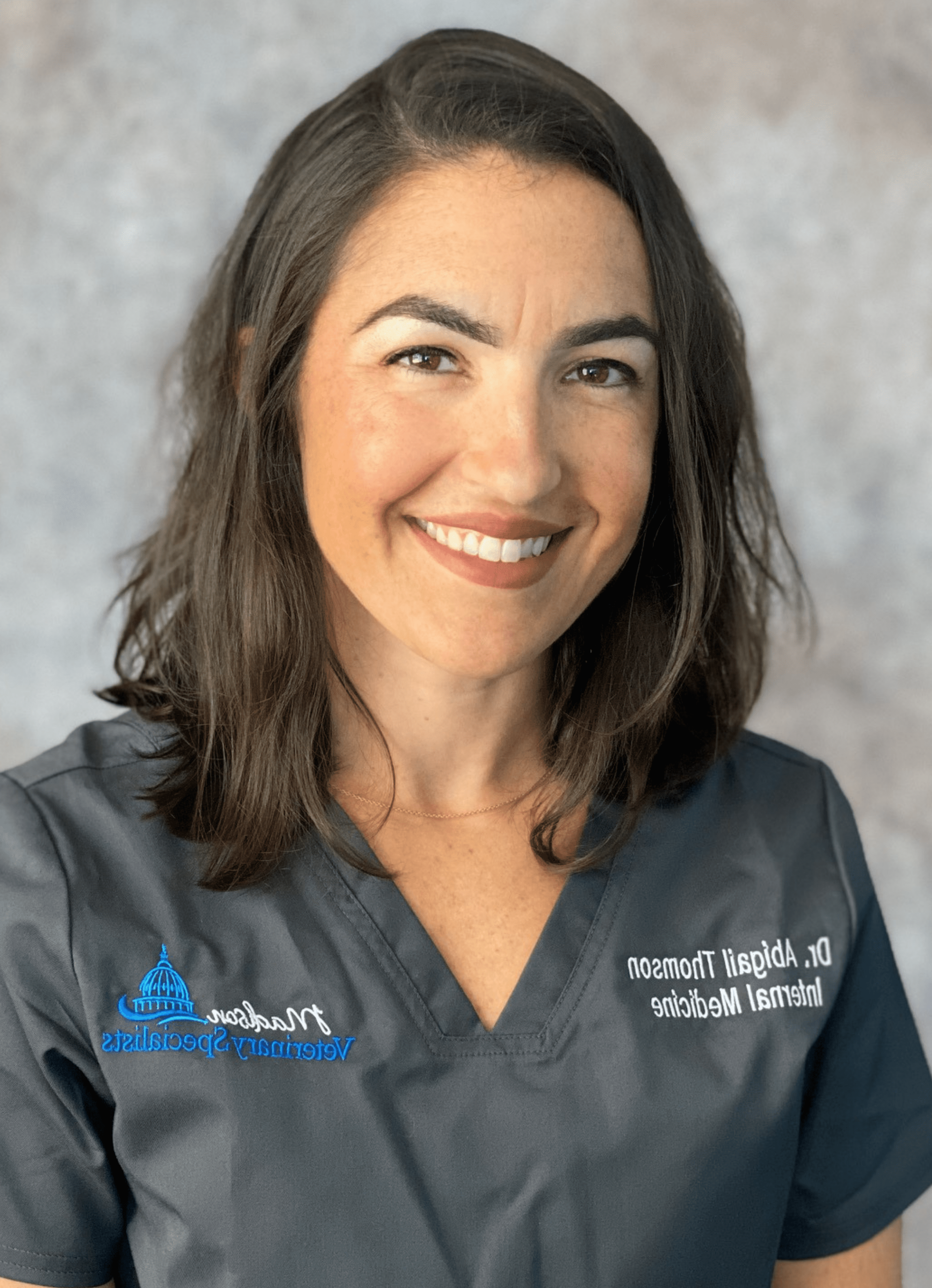 Abigail Thomson, DVM
Originally from St. Louis, Missouri, Dr. Thomson has strong hometown pride and remains a Blues hockey and Cardinals baseball fan.  She grew up in a suburb of St. Louis and originally studied English literature and writing at the University of Missouri in Columbia before discovering her calling in veterinary medicine.  Following undergrad, she moved west to live in the mountains.  Dr. Thomson lived in Salt Lake City, Utah where she learned to train horses using natural horsemanship, trained juvenile alligators as part of a research project, and completed her pre-veterinary science coursework at the University of Utah.  She then headed to the Northwest and completed her veterinary degree at Washington State University.  During her internship and residency years, Dr. Thomson trained at the Animal Medical Center in New York and the University of Minnesota in the Twin Cities, respectively.  Unfortunately, Dr. Thomson's board exams were cancelled this year due to the COVID-19 pandemic, however she plans on taking them next year and until then will join Dr. Jen Steele on our IM team. After living in many cities and climates across the United States, Dr. Thomson was drawn back to the geography and seasons of the Midwest and is excited for her adventures ahead in Wisconsin.
When she's not in the office, Dr. Thomson loves being physically active and particularly enjoys running, hiking, biking, skiing, and climbing with her husband.  She and her husband also enjoy sailing and playing with their two Pit Bulls and two cats.  To stay centered, Dr. Thomson practices daily mindfulness and spends as much time with family, friends, and nature as possible.  Internal medicine is a natural fit for Dr. Thomson, as she enjoys analyzing complicated problems, developing investigations, and then piecing information together to determine cause, effect, and solutions.  Her favorite part of her job, however, is her patients.  In between appointments, phone calls, and writing records, Dr. Thomson is typically found nurturing her patients, whether that's freshening their bedding, enticing them to eat, or just sitting with them and telling them they're loved.  She enjoys doing everything she can to make them feel comfortable and safe.