Events
The team at MVS loves being a part of many of the different events in our community. Check back here regularly to see causes we support and where we'll be. Check out some pictures of the team at the events, too!
May 30, June 19, July 26, August 2, 8, 2018 – Madison Mallards Baseball Games
Anyone who has been to a Madison Mallards baseball game knows what a good time is. It's be perfect opportunity to come together with friends on a gorgeous Madison summer day, drink a beer, watch baseball, eat and cheer…right in our own backyard! We love hanging out at the Duck Pond, too! You can find the team there on the above days, hanging out and handing out fun giveaways!
July 26th is Bark in the Park night at the Duck Pond. On this night, dogs are welcome in the park! There's a fun dog toy giveaway this year, and we'll be there handing out goodies. Stop by and say 'hi' if you see us! Tickets are still available here.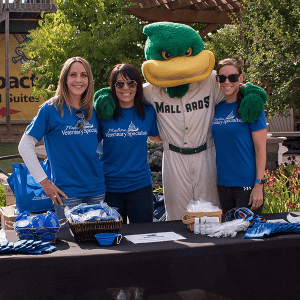 September 9, 2018 – Puptober Fest
We are proud supporters of OccuPaws Guide Dog Association. OccuPaws is a nonprofit, charitable organization based out of Madison, WI and is an accredited International Guide Dog Federation school. Their mission is to place fully trained guide dogs with visually impaired resident of Wisconsin at no charge, through an in-home training program.
Pubtoberfest is a great event held at Wisconsin Brewing Company in the fall. There's plenty of pups, activities, music and pints…a great combination! All the money raised goes towards the training and care of guide dogs. With events like this, OccuPaws is able to supply vision impaired people with a guide dog at no cost.
September 29, 2018 – Bark and Wine
Bark and Wine is a great fundraising event hosted by the Dane County Humane Society . This event always involves great music, food and silent auction items. All of the proceeds benefit DCHS and the countless animals and wildlife in Dane County.
November 22, 2018 – Berbee Derby
The Berbee Derby is an annual 10k run / 5K run or walk that takes place every year on Thanksgiving Day. 100% of the proceeds stay within the Madison Community and support organizations and groups that benefit children, teens and adults who do not have access to technology. Money raised from the event goes directly to grants which in turn provide much-needed technology resources to under-served demographics throughout the community.
Each year, MVS has a team who participates in the derby. It's a great cause, a great way to get some exercise in and a great way to give yourself an excuse to have an extra slice of pie after Thanksgiving dinner.